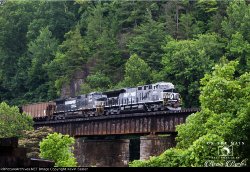 Welcome to the RRPictureArchives.NET contributor site of Kevin Beeler.



Welcome to my RRPictureArchive page! I created this page mainly to post pictures that I think are interesting, but would never be accepted to RailPictures.net. However, I will be duplicating some pics on both sites. Please feel free to check out my RailPictures gallery here: www.railpictures.net/showphotos.php?userid=4006

I am from the Knoxville, TN area, and that is where most of my pics are made. Both NS and CSX have main lines running through the city. NS has a large classification yard (John Sevier Yard) located just east of the city. This is one of the major yards on the NS system, and ranks among some of the largest on the system. The NS east-west main line running between Knoxville and Chattanooga (called the West End District, because it begins at the western end of Sevier Yard) passes right through the downtown area, and passes the old Southern Railway Depot located near downtown. In addition, NS also has a north-south main that exits the west end of the yard called the K&O line. At Beverly, this line splits, with one branch running toward the Tazewell area, and the other toward Clinton via what little remains of the ex-Southern facility at Coster. In Clinton, this line intersects with the "Oakdale Line" which runs east-west between Harriman and Clinton and intersects with the CNO&TP in Harriman at "Harriman Junction". This gives trains to and from Sevier Yard access to the CNO&TP.

CSX also operates a yard in Knoxville (West Knoxville Yard), although it is MUCH smaller than the NS operation. The CSX yard is located close to downtown, and is actually on the UT campus. The CSX line (referred to as the KD Subdivision) is the ex-L&N main between Atlanta and Cincinnati, and is now a heavy-duty line equipped with concrete ties. It also tends to carry a bit more traffic than the NS.



You may browse my collection of pictures via the menu located on the left hand side of the page. I hope you enjoy the collection and thanks for stopping by!